About us
Great News! Trip Advisor has recognised Pizzeria il Fiume with a 2018 Certificate of Excellence!
This prestigious award, which places us in the top-performing 10% of all businesses worldwide on Trip Advisor, is given to businesses that consistently earn high ratings from Trip Advisor travellers!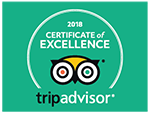 Check us out here on
Trip Advisor



I always like a restaurant where they take your coats at the door – and prepare to have your nostrils tantalised by the aromas wafting from the huge log oven.
Tam Cowan - Daily Record
Read Full Review
and
Part 2
Taking part in the show will be 22 dancers and seven musicians whose repertoire includes folk numbers from the Balkans and Russia with plenty of breath-taking leaps and thigh-slapping.
Dumfries and Galloway Standard
Full Story